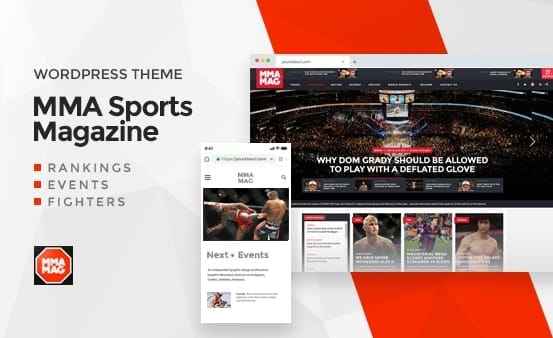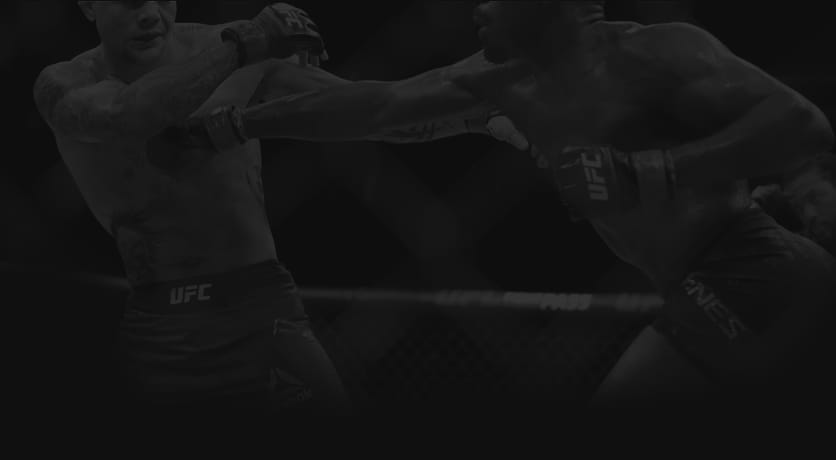 Theme Features
The MMA Sports theme comes packed with all the features that you might need when running an MMA website. It depends on you how deep you want to go with all the statistics, but the features are there. Alternatively you can use it as a regular magazine theme, without all the MMA stuff. The MMA features are activated as a plugin that comes built-in with the theme.

Fighters
You can create fighters and assign them to teams that you also create. Fighters have background info, like where he hails from, his nickname, nationality, etc..  Fighters have fight history as well, to keep track of all previous matches.
Events
Then there are Events. You can create them, add the bouts (who's gonna fight who) and set the date and place. A timer will automatically count down to the starting time of the event.
Rankings
Of course you have to rank all those fighters. Create your own lists, like the BMF Top 10 for example, or just use the official rankings of the organization you cover.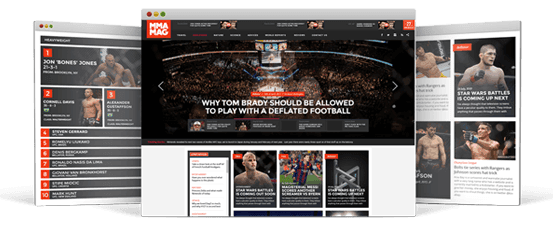 1
One Button Installation
After downloading and installing the theme, all you need to do to get one of the preset layout options up on your site, is to press one single button. That's it. You will have the look of one of our demos in seconds.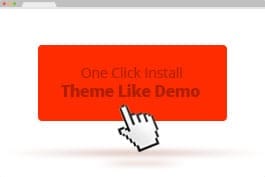 2
Multiple Layout Combinations
Combining the 21 custom widgets, and using the 4 different forms you can basically come up with a mind-boggling huge number of layout combinations.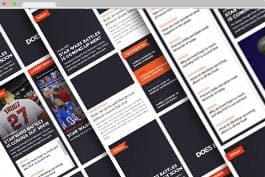 3
Rankings System
Once you have the fighters created, you can proceed to setting up the Rankings. Each category has it's own rankings table displaying the best 10 fighters at the moment.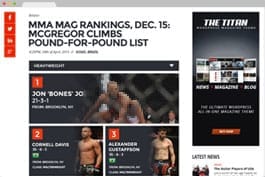 4
Events System
Easily set up events with our events system. Let the fans know what is coming in the world of MMA and what to expect. Once the events ends, you can easily edit it and dislay the outcomes.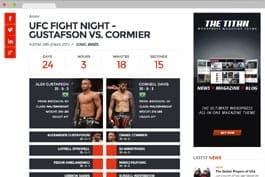 5
Fighters, Organizations & Teams
You can assign each fighter to an organization that he is currently participating in. Also you can add each fighters to one of the teams you have created.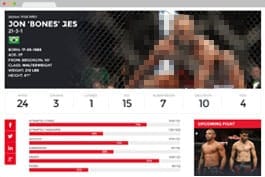 6
Easy Translation
If the language you want your website to be in is not English, you can easily translate the theme through the WordPress Customizer.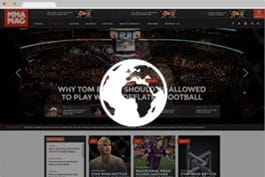 7
Speed Optimized
Thanks to our minimalistic approach, and the time spent figuring out what works best and what works fast, we managed a very fast load time. MMA MAG will offer your website visitors the perfect user experience, if backed up by a proper host.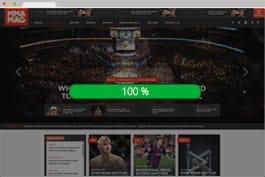 8
21 Custom Widgets
MMA MAG comes with packed with 21 custom widgets made with great attention to details. Almost all widgets can be displayed in 4 different forms, allowing you extra room to be creative, and produce a unique layout.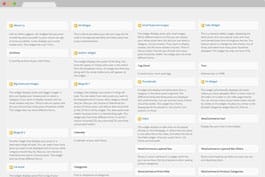 9
Fully Responsive
MMA MAG looks sharp and crisp no matter what device it is viewed on. We have payed special attention to details so that the theme looks prefect even on smaller screens.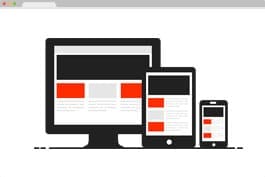 10
Easy Setup & Live Preview
All the options you need, including widget placement, colors, fonts, layout and much more can be accessed through the WordPress customizer. This helps a lot because you can see the changes you make on the Live Preview right away.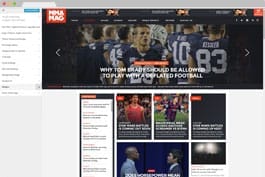 11
Build a Community
If you ever decide that you want to build a community around your website, then you can easily do so with MMA MAG. bbPress integration is fully supported.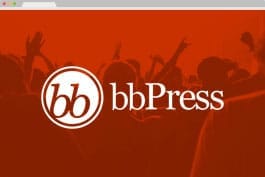 12
E-commerce
The theme works perfectly with WooCommerce, making it easy for you to set up an onlie shop and sell products to your customers.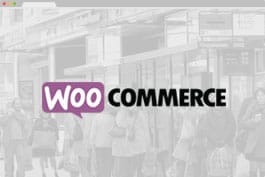 13
Demo Content
Xml files with demo content are included, making it much easier for you to set your website up real quick and spend more time on things that matter.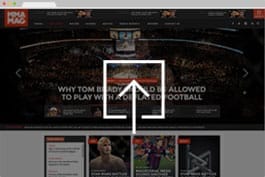 14
TV Page
Every video you have ever uploaded can be found on this page. The way the layout is designed will make for an easy and enjoyable video browsing and viewing. You can select 3 different layouts.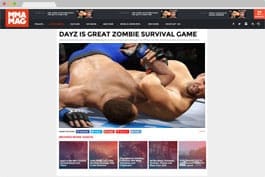 15
SEO Ready
The MMA MAG theme works well with most SEO plugins out there. It also has na internal SEO solution. Our passion for clean code and the speed optimization of the theme will make it even easier to climb that search engine ladder.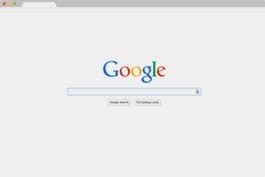 16
Typography
Hand picked Google Fonts that work well with the design of the theme. Select the fonts that communicate your message best.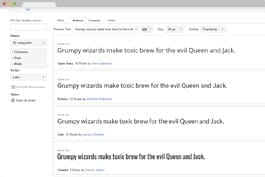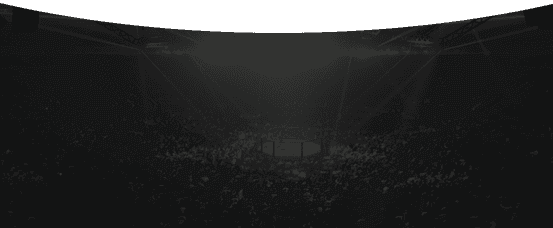 MMA-MAG is the world's first MMA WordPress theme. It is designed to be flexible, user friendly theme with a plethora of options, while also being easy-to-use and easy to customize.
Although the theme can be modified to be used for other similar contact sports, it is developed specifically with MMA in mind. If you are interested in running a website for sports like wrestling or boxing, check out our other themes dedicated to each of the sports respectfully.
$59
ThemeForest Quality Approval

Free Updates

6 months support
Last update: 09 August 2023
All our themes come with
Professional support

Free updates

One button demo

Full responsiveness

SEO ready
Easy customization

Full translation

Retina ready

Mobile ready

Documentation
Easy to use

No coding needed

WooCommerce ready

Huge font library

Unlimited color palette
Social media share

Lightweight

Fast loading times
You might be interested in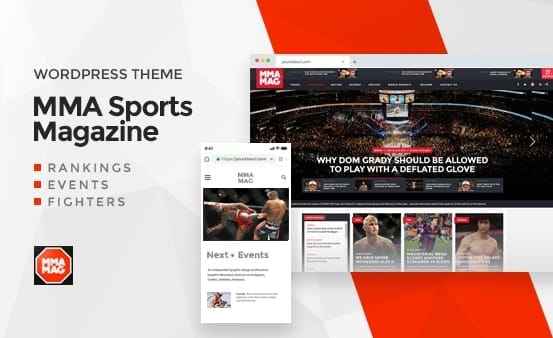 Ultimate Mixed Martial Arts WordPress Theme
$59
0 Sales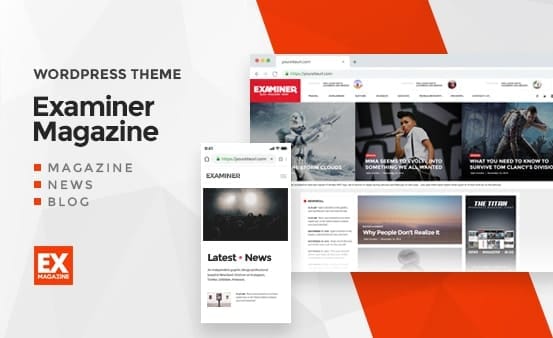 The ultimate WordPress Magazine theme.
$49
0 Sales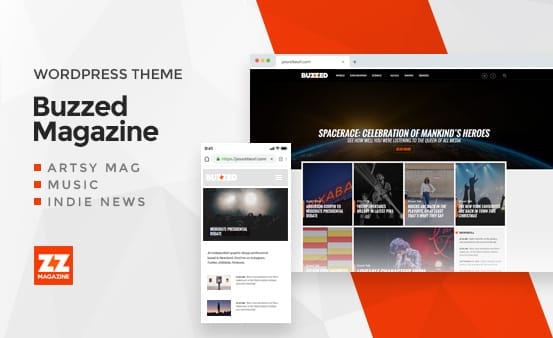 Boxing CBF Premium WordPress Theme
$50
0 Sales